Tips For Going Back to School With Braces
---
Getting back into the swing of a brand new school year can be exciting for patients and parents alike, but if a student has recently had braces put on, it may be an anxious time, as well. The big changes that come with braces can feel manageable at home but a little more overwhelming at school, especially in the first few days or weeks.
If you had braces put on this summer, the Frey Orthodontics team has all hands on deck to help you ease into the transition from summer to school! We want you to start this year with a spring in your step and confidence in your smile, so keep reading below for some of our favorite tips on how to successfully navigate being a braces patient as you head back to school!
Put some thought into your lunch menu
When it comes to getting used to having braces, food restrictions are probably one of the biggest learning curves. You already know to steer clear of anything too crunchy or chewy, but you may be finding it difficult to avoid treats at school that you were able to easily ignore at home. This is especially true if you regularly buy school lunches or tend to use a vending machine for snacks.
You can keep your treatment plan on track by making it a habit to check out your school's lunch menu ahead of time each week. Keep an eye out for braces-friendly options like soft vegetables, spaghetti, mac and cheese, and lean cuts of meat.
If the choices are limited or you're a picky eater, packing a lunch may make things easier! It's easier to eat and chew with braces when the food has been cut into bite-sized pieces, so keep that in mind as your pack your lunch. If you cut sandwiches into smaller pieces the night before, it will save you time and keep lunchtime brushing and flossing to a minimum. Healthy snacks like yogurt, applesauce, and cheese strings are great additions to your lunch bag, too! They're gentle on your braces and will keep you feeling full throughout the day.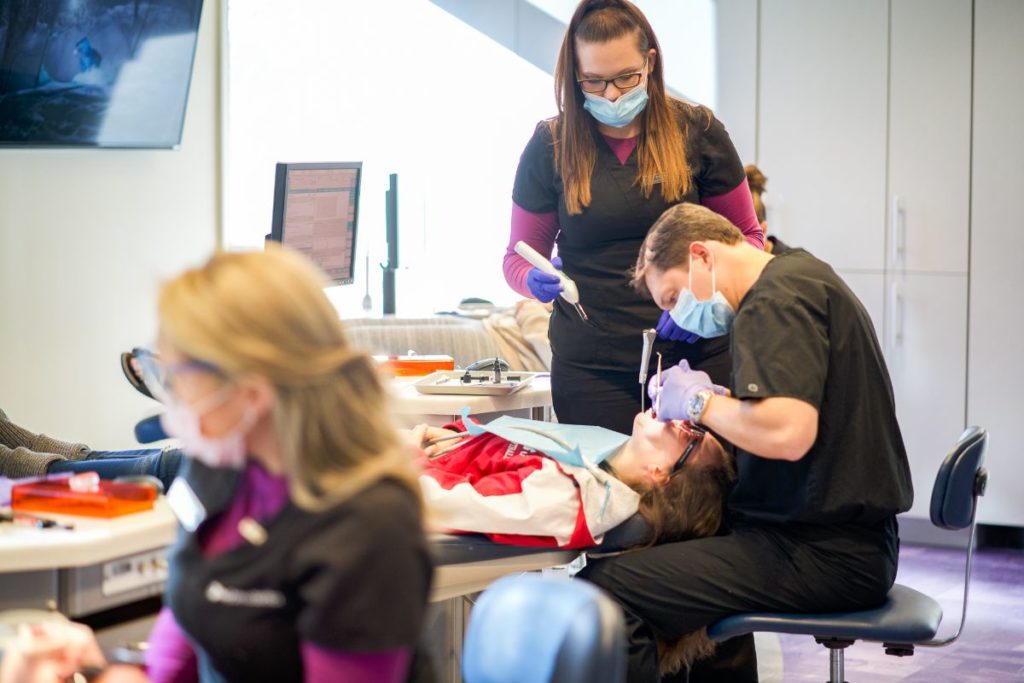 Say yes to H2O
Staying hydrated is one of the best things you can do for your overall health, but that's not all! Drinking water throughout the day will also help to wash food particles away from your teeth and braces. We encourage you to choose water over sugary liquids like soda and fruit juice, as these can stain the teeth and increase the risk of cavities. They may also lead to white spots on your teeth that won't be revealed until your brackets are removed. If you do indulge in a sweet drink or two, use a straw to keep the sugar away from your teeth, and be sure to brush them as soon as you're able to.
Be prepared for anything with a basic braces kit
While we recommend that all our braces patients keep a care kit in their purse, backpack, or locker, this is an especially helpful suggestion if you're new to orthodontic treatment. Having a few useful items with you at school will keep you prepared for any braces-related issues that might pop up during the day. Considering including common items like:
a soft-bristled toothbrush and fluoride toothpaste for brushing after lunch
floss or ortho picks to use after lunch (if you have the time and space to do so)
orthodontic wax, which can be used to cover any part of your braces causing irritation
extra rubber bands (you're probably changing these out frequently each day, anyway)
lip balm for dry lips, which can be exacerbated by braces
an unsharpened pencil for the eraser end, which can be used to push any stray wires back into place
Take a good look in the mirror
Sometimes eating with braces can be just plain tricky, no matter how careful you are, and even if the food has been orthodontist-approved for brackets and wires. Braces are prone to nooks and crannies that can easily trap food particles as you eat. This can obviously be unsightly and embarrassing! Leftover food also increases the chance of developing bacteria and plaque, which can eventually lead to cavities and tooth decay if left untreated.
Unfortunately (or fortunately, depending on your point of view….) most of us aren't comfortable pointing it out if there's something stuck in someone's teeth or braces. For this reason, we recommend keeping a small mirror in your locker or backpack so you can check your braces after you eat. This gives you the chance to clear out any offending food particles before people have time to notice!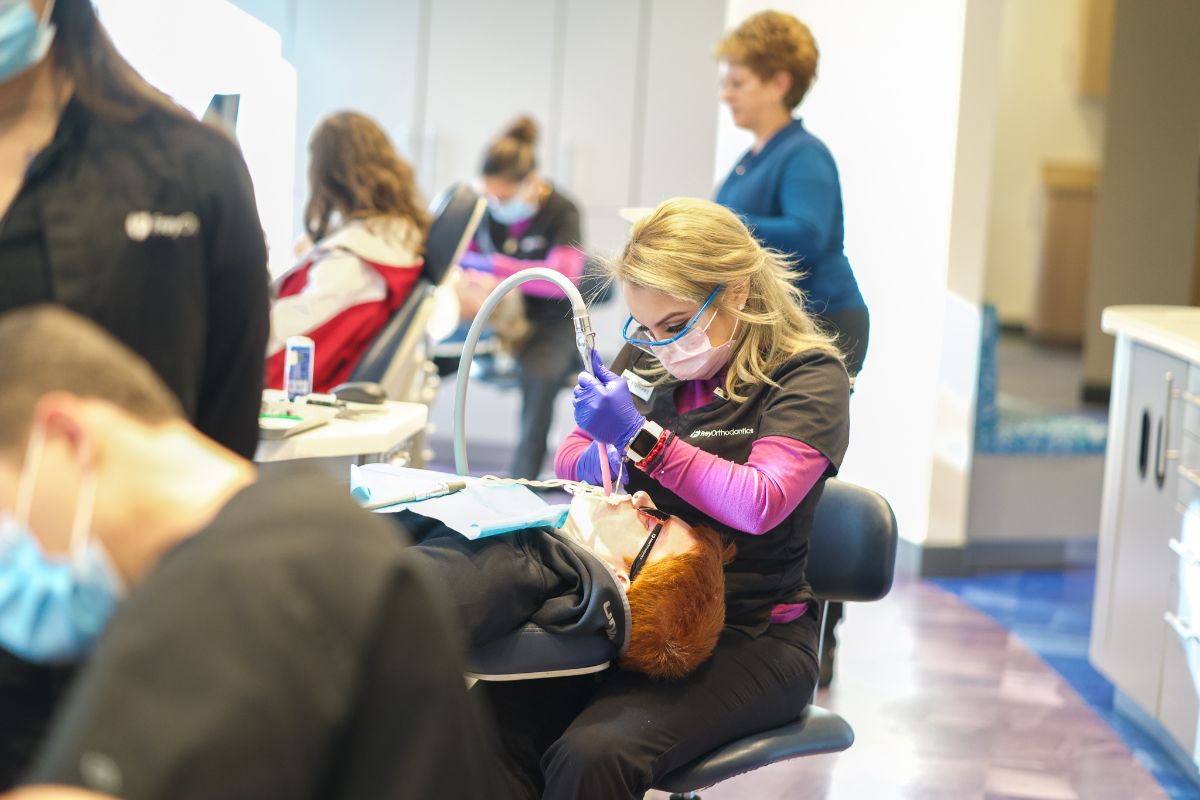 Protect your braces (and your smile!)
If you're a student athlete or still have regular P.E. classes, you may want to consider wearing an orthodontic mouthguard. Sports and other physical activities can increase the risk of your braces being damaged or your mouth being injured. Because orthodontic mouthguards are specifically designed to be worn with braces, they're the easiest way to ensure your overall oral health! These specialized mouthguards can usually be found at most major sporting goods stores, along with their non-orthodontic counterparts. If you'd rather go through our practice instead, Dr. Frey will be happy to recommend a particular model or order one for you.
Head back to school with a smile thanks to Frey Orthodontics
It's totally normal to feel a little nervous about going back to school with braces, but don't worry! While the journey to a straighter smile and healthier mouth takes a little time and effort, the Frey Orthodontics team is here to help you achieve an A+ smile.