Invisalign
Teens Can Get Straight Teeth Without Braces
Invisalign: Virtually-Invisible Clear Aligners
Learn About Invisalign Teen


Invisalign® Teen Aligners Are Made of Clear Plastic That's Almost Invisible
Straightening your teeth with Invisalign can be a great option for teens who are concerned about their appearance and don't want to look different from their friends.
Invisalign created a system that meets the special needs of our teenage patients. Invisalign Teen can be a great clear option for teens shying away from traditional metal braces.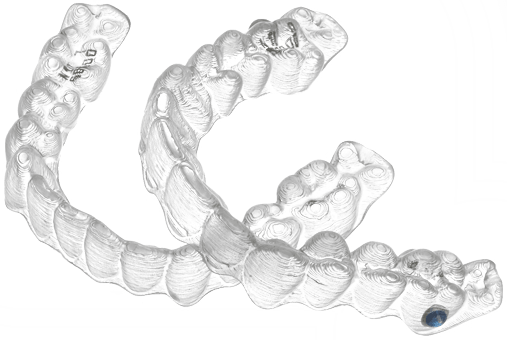 Invisalign Teen Is Like Invisalign
The basics of Invisalign Teen are identical to regular Invisalign, except that you'll have space left in your clear plastic aligners to make room for your adult molars that haven't yet come in.
You can even take them out any time you pose for a photo. Compliance monitors (blue markings that fade with time) track wearing time, assuring that each set of aligners is worn long enough to move the teeth before switching to the next set.
Finally, parents will be reassured to know that the Invisalign Teen package includes a provision for replacement aligners in case of loss.
With Invisalign Teen, there's no need to feel self-conscious because you can't join in with whatever your friends are doing. When everyone else is reaching for crunchy snacks, you don't have to say no – you simply pop out your aligners.
You don't need to worry that taking part in your favorite sport might damage your braces – or that playing an instrument in the school band might actually be painful because of the metalwork in your mouth. Invisalign gives you the freedom to enjoy being a teen.
Perfect for Busy Schedules: Invisalign Teen treatment is ideal for busy parents because there are never any emergency appointments from broken wires or brackets.
Invisalign often requires fewer appointments (than traditional metal braces) because you get your Invisalign aligners in advance and each visit requires less chair time. The typical Invisalign Teen patient is seen once every eight weeks for a total average treatment time of nine to 15 months.
Great for Active Teens: Invisalign Teen effectively straightens teeth the same way metal braces do. It's an ideal choice for teens who are active in sports, who play certain types of instruments, who love crunchy snacks like apples and popcorn, or who are concerned about the appearance of metal braces at homecoming or in their yearbook photo.
Doesn't Cost More than Traditional Braces: Every patient's needs are different and there are many factors that determine the cost of Invisalign treatment. In most cases, Invisalign is comparable in cost to traditional braces and covered by most dental insurance plans.
Financing options are also available to make Invisalign more affordable for your family.
Schedule an appointment now at either our Naperville or Algonquin locations for your new Invisaligns now!