Meet Dr. Dwight Frey, your Naperville Orthodontist
Dr. Frey graduated cum laude from both the University of Michigan and Northwestern University Dental School. He received an advanced degree in General Dentistry from the University of Colorado Health Science Center before earning his specialty degree in Orthodontics from Children's National Medical Center in Washington DC. Dr. Frey has excellent clinical experience treating both children and adults and uses progressive techniques to offer a wide range of creative orthodontic solutions.
Dr. Frey is a member of the Invisalign Innovation Leadership Panel, and a contributing author to the TAD Clinical Reference Guide, a nationally distributed manual for advanced orthodontic techniques. He's an active member of the American Association of Orthodontists and has been named one of America's Top Dentists three times by the Consumer Research Council of America. As a thought leader in the field of orthodontics, Dr. Frey is a sought-after orthodontic writer and speaker.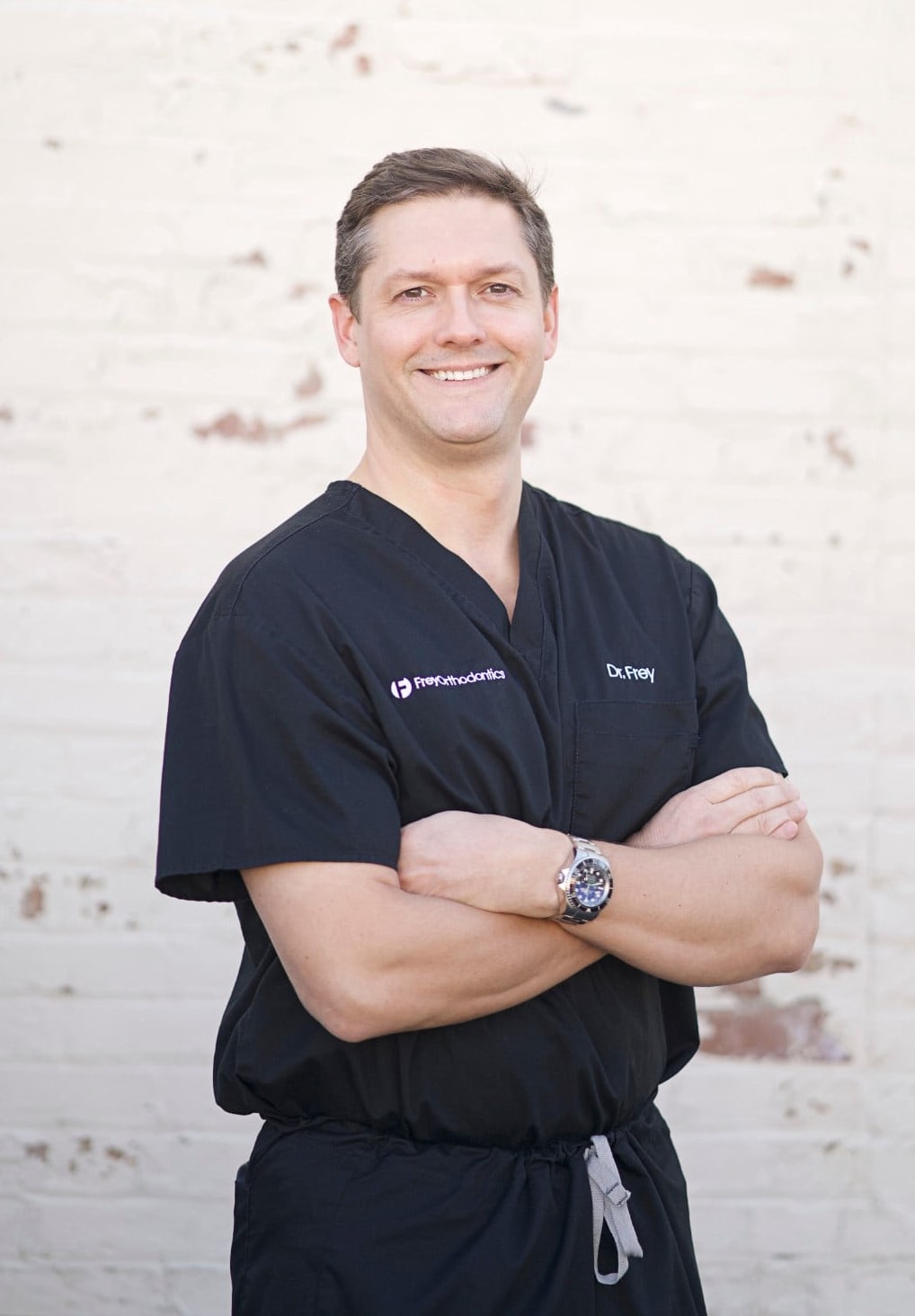 Why an Orthodontist in Naperville? Orthodontist vs. Dentist
An orthodontist is a dentist, but a dentist is not an Orthodontist. Not every dentist is qualified to be an orthodontist, even though every orthodontist starts as a dentist. Dr. Frey, like all orthodontists, had to continue their education for 2 or 3 additional years before receiving the necessary license and certification. Dr. Frey has spent years studying nothing but how and why to move teeth, as have all orthodontists. This includes what to do, how to plan, and how to execute the necessary treatment plan for you.
Why does it matter if you see your Naperville Orthodontist?
Dentists receive basic orthodontic training so they can perform root canals, extract wisdom teeth, and treat young children who do not yet need to see an orthodontist. Specialists, on the other hand, receive additional training to give them the skills needed to deal with more difficult orthodontic problems.
Seeing a specialist like a Naperville orthodontist may change your braces experience by:
Providing more treatment options, with a variety of braces or therapies to choose from
Having personal experience treating multiple cases that share your unique concern and anatomical characteristics.
More efficient treatment and visits, because it is the office's focus area of care.
Knowing that you'll receive the best possible outcome on your treatment plan, especially if you have severe bite discrepancies that need to be addressed.
Being seen more quickly, as a family dentist will be focused on longer patient cases or emergencies throughout the day.
While some individuals may think it's easier to have their orthodontic work completed by their dentist, convenience shouldn't be a barrier to seeing a specialist. You will only be stopping by your Naperville orthodontic offices every six to eight weeks.
And don't let price be a problem either! Frey Orthodontics is proud to provide affordable treatment in the Naperville area.
Testimonials from Naperville orthodontist patients
Frey Orthodontics was very patient and super dedicated when it came to making sure my teeth looking as awesome as possible! Though my treatment was only supposed to last a year, it wasn't completely finished at that point, so rather than just removing my braces, Dr. Frey explained the issue and told me it'd be in by bear interest to continue with braces until the issue could be solved. Throughout the whole process, the entire staff has been super friendly and very flexible with my busy schedule. Thanks for a great experience! -Lavina
My son had a wonderful experience with Dr. Frey and his staff. His treatment plan was lengthy but his smile turned out great. Dr. Frey is a perfectionist and it shows. The office is immaculate and state of the art. The treatment specialists always took the time to explain each visit and what to expect next which as a parent is helpful. I especially appreciate the kindness of Michelle at the front desk on changing and making appointments with a busy teenager's schedule. - Laura
I couldn't be happier with the results Dr. Frey has given me. I never thought I would be able to fix my teeth without surgery & he was able to make it happen. Two other family members have gone/go here, and I will continue to recommend anyone and everyone. The staff is SO friendly every time & know you by name when you walk in. I couldn't have picked a better place to help fix the smile I was looking for. - Brit