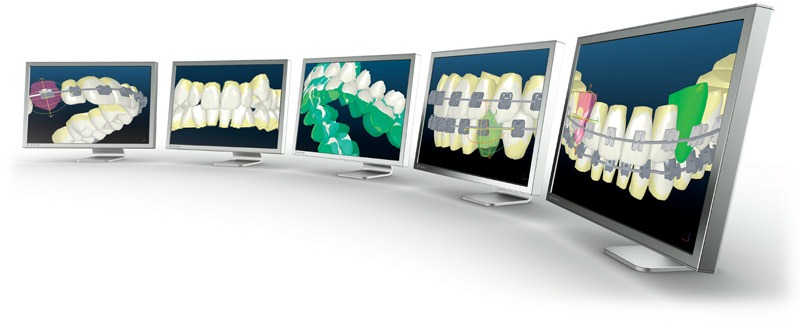 Insignia™ is a new 3-D Advanced Smile Design™ system that provides customized braces to fit each patient's unique features.
Insignia's computerized digital orthodontic system uses hi-tech 3-D computer modeling along with the patient's unique dental anatomy to manufacture brackets and wires made specifically for each patient. Patients get a digital 3-D preview of their new smile so they'll know what results to expect before treatment even begins. And, because everything is custom-designed, Insignia braces are more comfortable than traditional braces and may require fewer office visits to get the best smile.
Insignia is great for patients who may be unsure about what to expect, including those with mild or severe cases. It's especially ideal for adult patients who may have put off treatment due to worries about discomfort and the inconvenience of appointments every few weeks. With Insignia, they can finally have the smile they've always wanted, without the hassle.
To create a treatment plan, the orthodontist first takes an impression of the patient's mouth, which is scanned and converted into a 3D image. Insignia's exclusive CAD (Computer Aided Design) software uses advanced algorithms to determine the best possible outcome based on the patient's unique dental structure. A digital model is created to allow the patient and doctor to view the predicted outcome prior to initiating treatment. Changes can be made to the treatment plan as needed.
Once the plan is approved by the doctor, customized brackets and wires are manufactured specifically for the patient's unique dental anatomy to move the teeth precisely into the desired position. The doctor has the ability to provide aesthetic options based on patient preference.
Insignia is manufactured by Ormco Corporation, a leader in developing innovative orthodontic treatments and products for more than 50 years. Learn more about Insignia here.