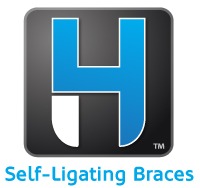 The H4™ Self-Ligating System is a low-friction, light force orthodontic solution that delivers healthy tooth movement with optimal control.
The contoured trajectory of the slide and smooth rounded edges increase patient comfort. Self-ligating braces are a revolutionary treatment option to get you smiling faster and with greater comfort. These brackets provide a low-friction, light force to move teeth into place with optimal control to provide better results for our patients.
The brackets are smaller, providing a more comfortable and discreet orthodontic experience. With the treadlock pattern, we can achieve greater bond strength to keep brackets in place so your treatment stays on track.
Using this technology saves you time too! These self-ligating braces require fewer visits to our practice so you don't have to miss as much school and/or work for wire adjustments.
Key Benefits of Self Ligating Braces:

Greater Comfort
Reduces Treatment Time
Fewer Appointments
Smaller Brackets
---